LPG
DragonGaz: innovation and research at the service of safety
Safety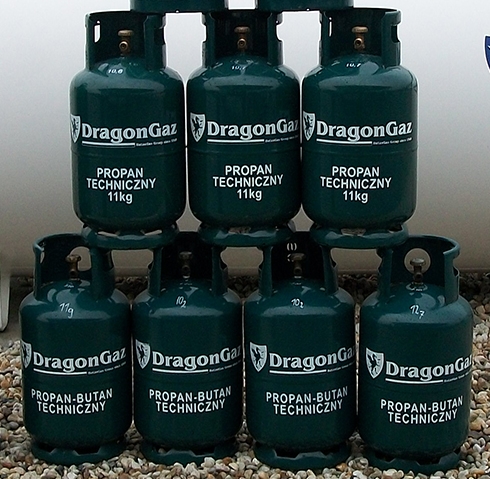 Guaranteeing the safe use of cylinders and cylinder installations is associated with the observance of a few basic rules (find out more). Only by using the services of a professional supplier, we can be sure that all procedures related to the technical service of the cylinders and the filling process will be followed. It is up to the supplier to decide on the quality of the liquid gas poured into the cylinder and care for its proper filling. For complete safety, the cylinders are filled to 85% of their capacity, thanks to which a "gas cushion" is created inside, which is a reserve of space for the expansion of the liquid, which is LPG due to temperature changes. In addition, the supplier takes care of the technical condition of the cylinders and control of their technical condition, subjecting the cylinders to inspection in the filling process, as well as by performing periodic certification tests with the participation of technical supervision. Returned cylinders are checked for leak tightness of the container, valve and seals. If any irregularities are detected, the cylinders are serviced, verified or replaced with new ones.
DragonGaz, after filling, seals the cylinder valves with numbered heat-shrinkable seals, which guarantee the correctness and legality of filling the cylinder with LPG. The seals contain information about the place of filling and the entity responsible for filling, thus giving a guarantee to its users that the delivered cylinder is safe.
In the process of cylinder operation, however, first of all, attention should be paid to the method of connecting the gas cylinder to the gas combustion device and to its technical efficiency. The statistics clearly show that the most common cause of accidents caused by escaping gas from a cylinder is improper connection of the cylinder to the gas burning device.
Safety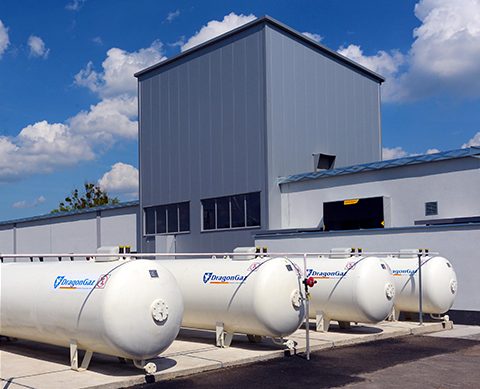 Gas tanks are one of the safest technical devices used in industry and households. Liquefied gas tanks are subject to very rigorous controls at the construction stage and during operation, they are additionally inspected by the Office of Technical Inspection. DragonGaz, guarantees its customers the right level of tank condition control during filling, the correct filling process and tank service in emergency situations.
Gas tanks are filled to 85% of their capacity for safety reasons and are equipped with safety valves which, even in the event of a fire in the immediate vicinity of the tank, protect the tank against excessive pressure increase.
It is also very important to provide an appropriate protection zone of the tank, which must be free from buildings, structures and combustible materials.
In every situation, the tank should also be secured against possible damage by moving vehicles.
In the event of any malfunction or leakage of the tank, contact your gas supplier or, in the event of a fire or sudden gas leak, the nearest fire brigade (find out more).