LPG for home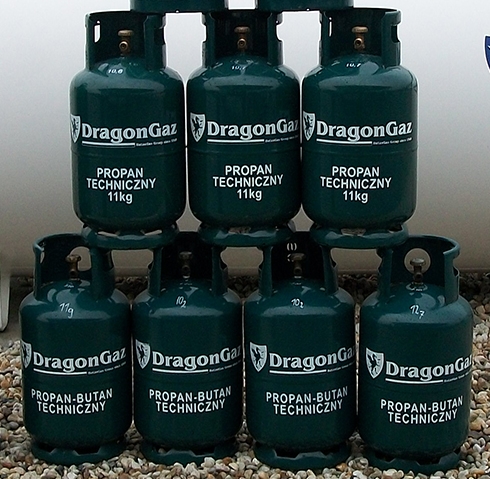 DragonGaz LPG cylinders are made of high-quality steel. They are safe, easy to handle, and easy to transport. They are tested and filled in our high-tech plants, in compliance with the regulations and the highest environmental safety standards.
The cylinders are filled with liquid-state LPG. At the end of this process, the cylinder is weighed and subjected, first, to a further quality check to verify the presence of any leaks, then to a quantity check to verify the filling compliance with current regulations.
Delivery is based on the individual contracts discussed with customers. We guarantee the highest quality of the product and on time delivery.
We distribute gas in cylinders in the following provinces: Opole, Dolnyśląsk, Warminsko-Mazurskie, Pomorskie, Kujawsko-Pomorskie.
DragonGaz cylinders are available in different sizes to meet your every need
| QUANTITY OF LPG CONTAINED [kg] | TARE [kg] | TOTAL WEIGHT [kg] | DIMENSIONS DxH [mm] |
| --- | --- | --- | --- |
| 11 | 10/13,5 | 21/23,5 | 300×550 |
| 33 | 30/33,5 | 63/66,5 | 300×1250 |